Ziva Wedding Dresses
Custom made dressing!
The Challenge
Ziva Wedding Dresses is a custom wedding dress making business, so client need a fresh and cool design layout with using bright colors that make attractive look of the project. Adding directories navigation and logo also challenges for us because client need different logos one for main header and other for scrolling.
The Solution
We design and organize all the itineraries information with easy navigation and content management. The problem of graphical view of itineraries solve by easy route map in each page.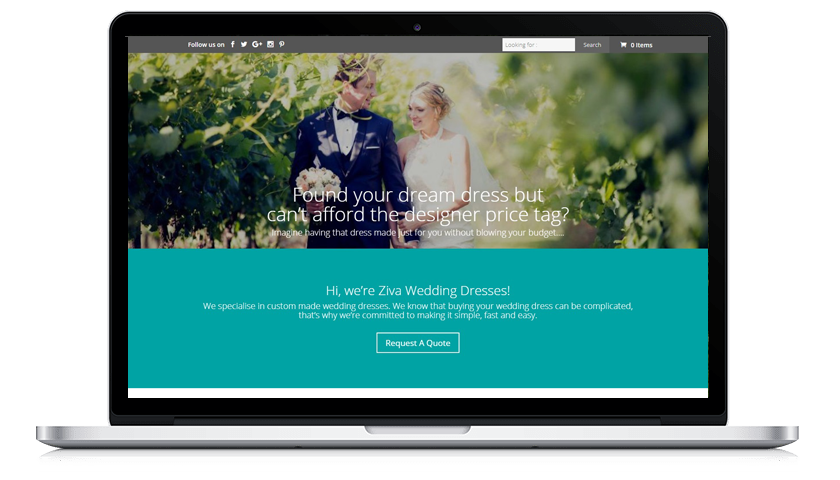 Description
Ziva Wedding Dresses is an Australian owned business that creates custom-made wedding and bridesmaid dresses. They work alongside brides to design and re-create their dream dress that is affordable, with a fraction of the designer price tag. Ziva has a team of professional dressmakers that custom make your dress from your chosen design and measurements. They have a range of quality fabric to choose from and offer a service that provides advice, expertise and helpful hints to our upcoming brides-to-be.
As ZWD is an e-commerce project, that offer you place order for your custom wedding dresses, so responsiveness is necessity of this project. To sure the responsiveness we had use flexible banner with flexible design layout as well as optimize the content so that it will perfectly positioned on mobile devices.
We also overcome all the issues like poor user experience, slow load time etc. For better user experience we had used icon with some content that retain the attention of user.
Description
ZWD is a business that made custom wedding dresses, they made dresses as per client need. They recreate your dream wedding dress from the measurements you provide in your dress production. Their fabric suppliers use quality fabrics and each dress is handmade by an experienced dressmaker, with exceptional tailoring and attention to detail.Their wedding gowns are made to the highest standards, with each dress goes through a quality control process before it is delivered to you. However, if they find a fault, they will contact you immediately and arrange to rectify the issue. They also offer a refund if your wedding dress arrives with a fault in its construction, or if it does not match your confirmed design brief.