West Bay Cottages
Lake Nipissing Cottages & Vacation Rentals
The Challenge
West Bay Cottages is a Family Destination that offer newly furnished 2 & 3 bedroom cottages. While we were working on this project we had the challenges like user friendly navigation, content management, retention, performance, accessibility etc.
The Solution
We redesign and organize all the activities, cottages description, testimonials with easy and user friendly navigation. To make user retention we redesign the project with some css. To keep visitors come back to the site , we try to make better user experience throughout the site and also make sure for accessibility of site.
Description
West Bay Cottages offer newly cottage units. All these units include full kitchen equipment, fridge, stove, microwave, coffee maker, toaster, dishes etc. West Bay Cottages include Full Kitchen Equipment, Fridge, Stove, Microwave, Coffeemaker, Toaster, Dishes etc. Drinkable water from every TAP, a 3-piece Bathroom, Shaw Direct Satellite on HD Flat Screen TVs, Free WIFI, Baseboard Heaters and a Wood Burning Stoves.
There are many great local attractions to visits, including 3 Golf Courses within a 30min drive. For the Kids Science North has many great activities including the new mining rescue simulator. The Sudbury Art gallery always has lots on display.
For responsiveness we make the content optimization for mobile use or other portable devices. We write some media queries to assess the screen size of every visitor and then displays the layout. We also intuitive navigation menus for responsiveness and make this project more user friendly.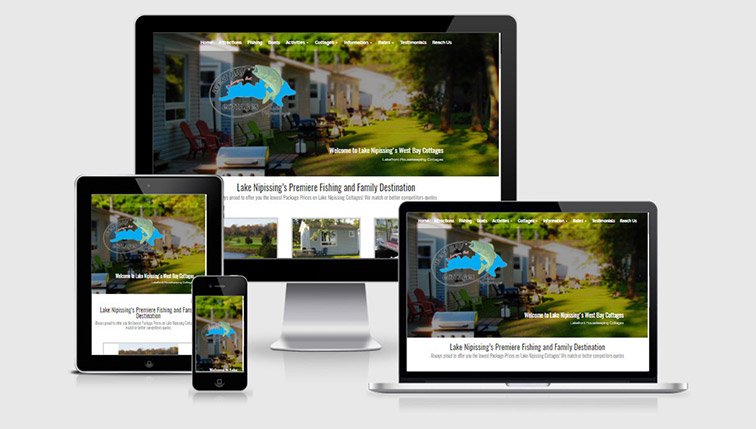 Description
West Bay Cottages organize various activities including water sports, sea doo , wild life etc.Rentals of the Sea-doo Spark available by the hour, 1/2 Day or even a full day. Main attractions of West Bay Cottage are Science North which also includes a 3D IMAX theatre, a planetarium, Northern Ontario Railroad Museum and Heritage Centre which is located just outside of Sudbury Ontario, Duchesnay Falls, LeisureFarms is local family run farm in Sturgeon Falls.
Art Gallery of Sudbury Located in Sudbury, Ontario this beautiful art gallery is housed inside a turn of the century mansion, which holds a number of events and classes and exhibitions. There are many great local Golf Courses within a 30 minutes drive.