Valois'
Motel & Restaurant
The Challenge
Valois Motel & restaurant offer booking of accommodation, organize activities, so some of Challenges occurred while working on this project were redesigning, generation better user experience, deals the various responsive issues.
The Solution
We redesign web pages with the latest design trends, organize restaurant menus in flip book, use portfolios for order of meals, accommodation price represent by the tables, that increase the user experience, and overall design of website.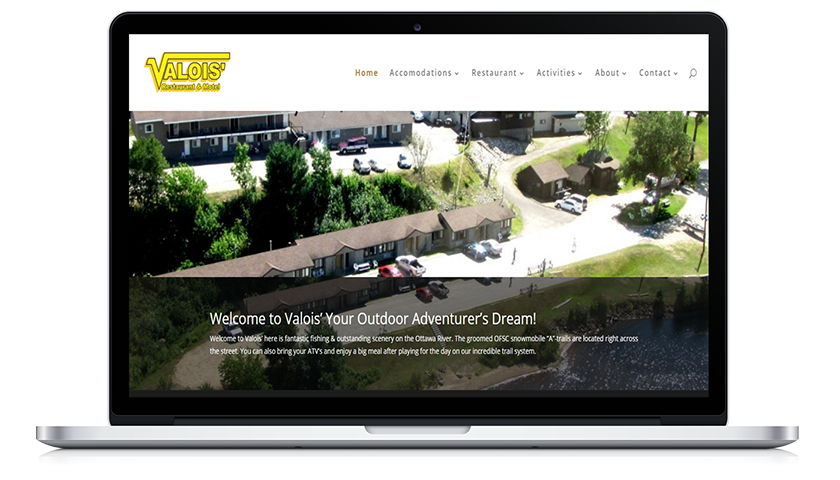 Description
Valois Motel is a restaurant located in the town of Mattawa. They have 42 rooms and two seasonal cottages in the Ottawa River. They organize Off-road adventure on ATV's to horses on first-class multi-use venue on more than 300 kilo-meters of trails. They have great hunting in their area, everything from moose and deer to small game, ducks and black bear. They also organize the various activities Fishing, Snowmobiling etc.
As this project offer their visitors to reserve their tours, accommodations,make order of food, so its relevant us to make a testing of responsiveness for this project on the various portable devise, like mobile phones, tablets etc.
We set all the responsiveness issues like layouts of page, font size, forms that should be properly visible on the small devices so that they visitors can get answers of their queries like any question regarding booking of accommodation, or can easily applying for any vacancy in the Valois Restaurant.
Client Valois Motel
Date 5.10.2014
Skills Branding, Web Design
View valoismotel.com
Description
Valois is a comfortable, traditional motel found in Mattawa, Ontario; a quiet and calm community nestled between rivers and mountains. They offer activity like Fishing in the Mattawa , Snowmobilers can find acommodations, fuel, food and repair shops in Mattawa.