Travelwayz
Make your travel a pleasure!
The Challenge
Travelwayz is a tourism site, so client need the fresh design layout that enhance the beauty of destination with lot of banners, and attractive navigation that reattain the attention of user.
The Solution
For the best design layout, we had use appropriate banner for the destination, content positioned over images that increase the over all look of the site, navigation also decorated with light color that give an elegant look.
Description
Travelwayz, located in Shimla is a recognized travel agency by Deptt. of Tourism and Civil Aviation, Govt. of HP. Travelwayz offer tour packages, hotel reservations and car rentals to HP, Uttarakhand, Punjab, Jammu and Katra as well as all inclusive resorts offering a wide variety of multi day trips. They also offer all type of vehicles from New Delhi, Ambala Cantt. Chandigarh, Jammu and Amritsar for the entire tour. Travelwayz let you create a holiday at your pace and your dreams.
As this project is associated with tourism, so we need to take a test for project responsiveness, so that user can easily access this project with proper design layout and content management and can book their tour by using any devices ( mobile devices, desktop, tablet). We had use flexible design layout with flexible banners that improve the look or design of project for small devices.
While working for responsiveness, we also overcome all the responsiveness issues and improve user experience, performance, easy navigation, better user interface with beautiful graphical interface.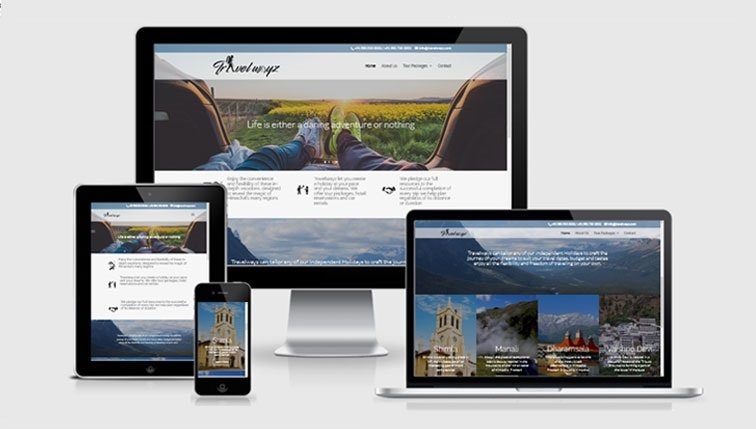 Details
Client Travelwayz
Date 5.10.2014
Skills Branding, Web Design
View travelwayz.com
Description
Travelwayz can tailor any of our Independent Holidays to craft the journey of your dreams to suit your travel dates, budget and tastes enjoy all the flexibility and freedom of traveling on your own. They strive to make your travel simple, worry-free, fun and turn the travel to a pleasure experience for their customers. They also conduct jeep safaris to the exotic Kinnaur and Spiti valleys of Himachal Pradesh.