The Challenge
Navigational structure, designing state location map, mapping of each state with related bond quote, content organization, security were the main challenges for this project.
Client of Surety Bond was not happy with the old design and layout of site, so our main challenge was to use fresh and cool design layout for this project with easy navigational structure, and content organisation.
The Solution
We tried to change overall look of project and we had get success in getting new and fresh design layout for this project and content organize with icon that attract the attention of user so in the result, it improve user experience and performance of website.
Description
Surety Bond providing you the easiest bonding process, the strongest bond backing, and the best defense in the event of a claim. They offer all types of bonds – Court (required in court dealings to ensure security from a possible loss), Contract, Commercial (required by state laws for various industries), construction (bond that guarantees contracts are fulfilled), License (required by Government agencies to guarantee obedience with regulations & bylaws connecting to a specific license or permit) etc.
We have test every aspect of this project from design layout to font sizes, content organization, easy navigational structure so we have successfully overcome all the responsiveness issues and made one project for all type of devices, whether user are on desktop or mobile phone or tablet. With the easy navigation user can get bonds details for any state, and can also know terms and policy for getting bonds quote. This project also compatibility with all the browsers. All this result in better performance , better rating and make this project user friendly.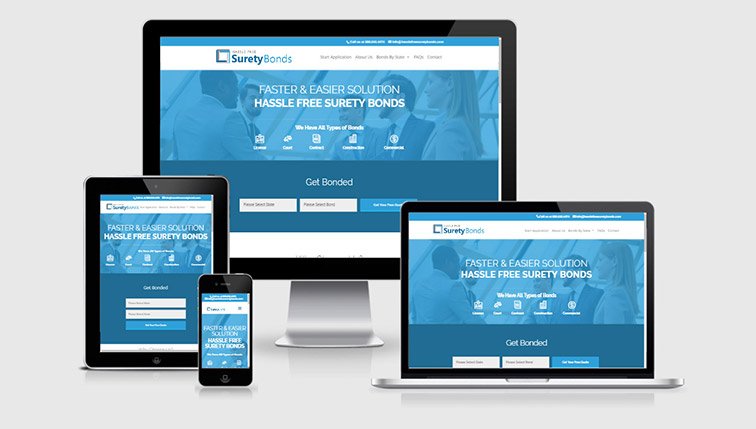 Description
Surety Bonds provided bonds quote with a speedy, simple & accurate bonding process. In most situations, you will get free, no obligation surety bond quote ready within one business day. You will get the best deal within minimum time frame and best rate possible for your bond at surety bond.