Bay Wolf Camp
Black Bear Hunting
The Challenge
Bay Wolf Camp offer Fishing, Small Game Hunting to Black Bear Hunts for both Archery & Rifle Hunting. Main challenges for this project were content organization, design layout, easy navigation.
The Solution
We design and organize content with images and banners with call to action that will reach the user to the related page. We also use easy navigation and there is an internal link that improve the user experience.
Description
Bay Wolf Camp locate on the shore of West Shining Tree Lake in the hamlet of Shining Tree. This region of north east Ontario is an accessible wilderness area. It attracts sportsmen from all over the United States & Canada. They offer Black Bear Hunting and bring hunters from all over North America and provide both archery hunters and rifle hunters excellent presentations to harvest bears. Their Fishing Package gives anglers the opportunity to fish on over a dozen different lakes for walleye, northern pike, smallmouth bass, trout, perch, and whitefish.
Bay Wolf Camp compatible with all the devices, we had check all the responsive issues for this project and deal with all these issues like font sizes, design layouts, images, navigation etc. This project is one for all the devices, so user can easily access all the pages on the mobile or tablet devices with readable content, flexible banners, and also easy navigation. All the responsive issue fixed , and this result in better user experience, improve performance, also improve rating of site.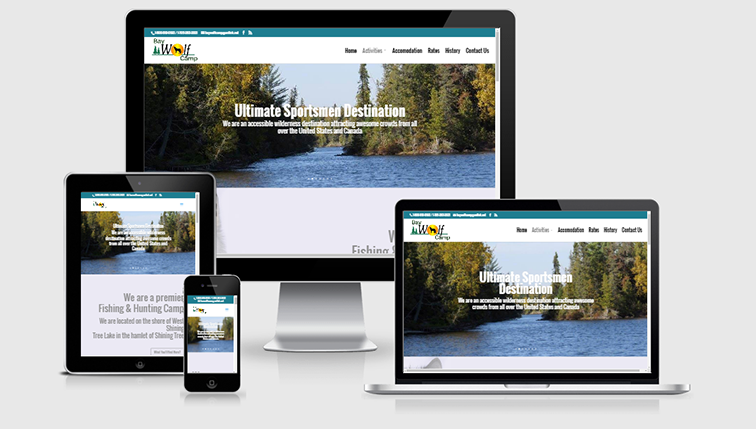 Details
Client Bay Wolf Camp
Date 5.10.2014
Skills Branding, Web Design
View bwc.simlabeat.com
Description
By Wolf Camp offer Fishing, Small Game Hunting to Black Bear Hunts, for both Archery & Rifle Hunting. They offer you full fishing plus hunt for ruffed grouse, spruce grouse, snowshoe hares, ducks and geese. It combines fishing with small game hunting and is the ideal choice for the late season sportsman. Bear Hunting includes one week hunt, modern housekeeping accommodations, baited sites, assistance with tracking and skinning and all taxes. Storage of hides and meat in our walk-in freezer is provided at no charge. Fishing Packages include modern housekeeping accommodations, boats & motors on 12 lakes, outboard gas & oil, boating accessories, bait, freezer service and all taxes.