Astounding Himalayas
Explore the unseen
The Challenge
User interface, content organization, navigation, designing banners for different destination were the main challenges for this project. we also need to use secure payment gateway for online payment.
The Solution
For the best user interface we had used best and latest design trends, itineraries information organize by easy navigation. We had design suitable banners for each itineraries with call to action that let the visitor to the related destination.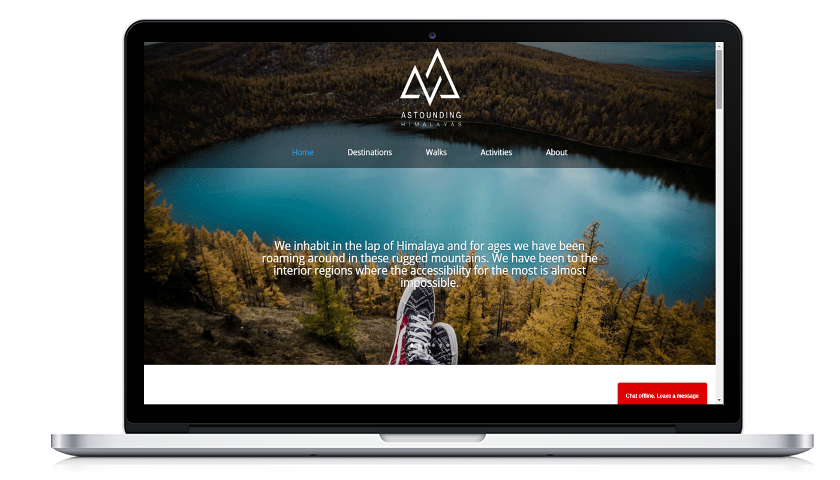 Description
Astounding Himalayas inhabit in the lap of Himalaya and for ages they have been roaming around in these rugged mountains. Astounding Himalayas offer you a vast variety of tours of all types featuring both exotic and already well-known destinations. All our tours and excursions are available at really affordable prices so you can always pick a great destination. They also organize different activities like cycling, trekking, culture, Everest etc.
Astounding Himalayas organize various tour of Himalayas, s this is a traveling project and responsiveness is backbone of this project, as visitors can book their tour from any devices. We had overcome all the responsiveness issues and improve user experience with flexible design layout, flexible images, easy navigation. We also reset font sizes for small devices that improve the user readability.
Description
Astounding Himalayas offer a variety of tours destination, including Himachal, Nepal, Bhutan, Ladakh, Uttrakhand etc. They cover all the tourist places of these destination. Astounding Himalayas have been to the interior regions where the accessibility for the most is almost impossible. Glaciers, high altitude lakes, high passes, forests, rivers, remotely located villages, architecture, lifestyle, culture and history all of them collectively form Himalaya. They also offer Village walks, walks in shivalik, short walks , it just give you deep view of Himalayas.